Industry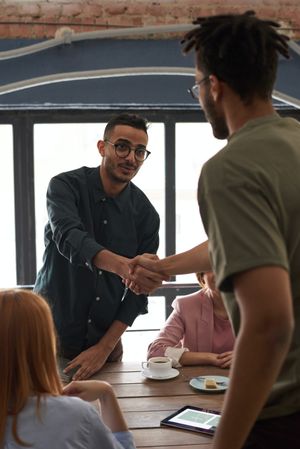 As much as I like to think I have connections and can get the ball rolling it's God who connects and moves individuals to provide blessings for me and all those around me. There's this one person I've been wanting to work with because they authentically treat everyone the same no matter what the situation, and they have this unique ability of awareness and to see what's really going on.
Let me give you a small example but just to let you know they see people and pictures things the same way.
So I had Starbucks one day early on which I had filled with tea once it was gone. This person had came in looked at me and randomly said that's not Starbucks in that cup. What would make somebody say that when all they see is cup with the brown paper holder on it with the Starbucks lady's green smiley face and a black stirrer poking out hole in the lid at the top.
How in the world would they know that….
I know this is small example but it's a reflection of their has the ability to see beyond what's plastered in front of them.  
You know people move in this industry with a deep amount of and perception and deception. Perception is the ideology of who you personally think someone is based upon what you see, which I'll just tell you straight up, over 85% of what people perceive is wrong.
False narratives of what we create about someone's personality, title, position, what they think they can do for us, net worth ect.  
Deception is false narratives they push to make people think about their personality, title, position, what they think they can do for someone.
I have a desire for authentic power. People who are who they are and can do what they say.
So I can boil down the definition of being Industry as such:
 Industry = Perception + Deception
I believe the key is to not deceive, reject perception and walk in transparency.
In the mist of dissension, I think I'm searching for more an altruistic value in myself as well as other people.
#8xGrammys…the journey continues.
P.S.
I'm official done with Twitter, FB, and IG. If you need to connect with me hit my line or shoot me an email. We have to find a different way to connect.
Click here to see what I've been doing during COVID season