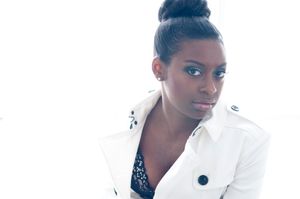 She Walked the Earth Knowing This Wasn't her Ultimate Home, and Felt Blessed and Comforted in Knowing She was Still Surrounded with Favor While here until the Appointed Time to Go Home.
In a series reboot, Rochelle Bloom's music has been featured in the hit TV show Charmed, and has grabbed attention from Media Personality Joe Budden, who stated her rhymes are fire and others who speak that Rochelle Bloom, is one of the new-comers their excited about. Bloom's music has also open doors for her to perform as an opening act for megastars such as Ludacris, Rae Sremmurd and more....
She graduated with a degree in entrepreneurship from a "Princeton Review" ranked university eventually hustled her way into an internship with N.A.R.S. Records where she began learning about the business side of being an artist.
Born & raised in Northwest Indiana, now residing in Atlanta. This Atlanta based artist has established her thundering sound. Fans describe Rochelle Bloom as "A Happy Place with Dark Corners", and songwriting as "Rhythm, Rhyme and a Lot of Truth Bombs". Bloom's affinity for truth and honesty in storytelling, bars and riveting songwriting has molded her into a powerful force in music.
Her new single "Stay", has recently been featured on Sirius XM's popular Sway in the Morning Show. This single featuring Rez Leon and producer Reggie Rock is from Rochelle Bloom's Album titled "Partly Cloudy" now available. To further connect with Rochelle Bloom please join her email list.