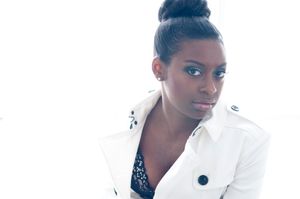 Rochelle Bloom, a fearless wanderer on Earth, knew deep down that this realm was not her ultimate home.  
In a magnificent series reboot, Rochelle Bloom's music transcended boundaries, making its mark in the hit TV show Charmed, while capturing the attention of renowned Media Personality Joe Budden. His words echoed through the industry, proclaiming her rhymes to be nothing short of fire, joining the chorus of excitement from those who recognized Rochelle Bloom as a rising star. 
As her melodies opened doors, Rochelle Bloom found herself gracing the stage as an opening act for megastars like Ludacris and Rae Sremmurd, captivating audiences with her thundering sound. 
Hailing from Northwest Indiana and now calling Atlanta home, Rochelle Bloom has established herself as an undeniable force. Her music embodies a happy place with dark corners, where rhythm, rhyme, and unfiltered truth converge in explosive songwriting. 
Bloom's music videos have garnered acclaim, earning nominations at prestigious Academy Award qualifying film festivals such as the Bronze Lens Fest, Atlanta Film Fest, and Cinequest Film Festivals, among others worldwide. 
The infectious music of Rochelle Bloom's singles have graced the airwaves of Sirius XM's popular Sway in the Morning Show, solidifying her presence in the music scene. 
To immerse yourself further in the captivating world of Rochelle Bloom, join her email list and be part of the growing community that embraces her relentless pursuit of truth, honesty, and unforgettable storytelling.
To further connect with Rochelle Bloom please join her email list.